 Electronic Techlog and more
Client: British Airways Cityflyer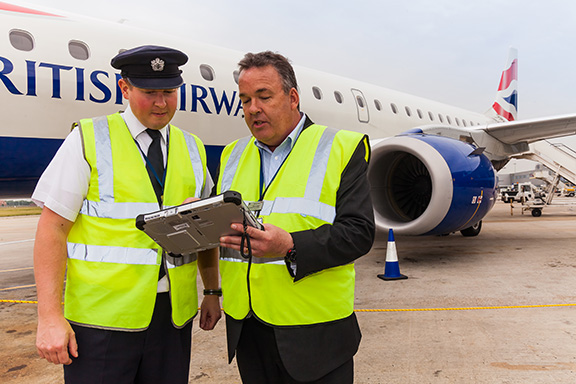 British Airways Cityflyer (BACF) has always been a forward looking airline. Working with NVable to shape Converge for Aviation, they are leading the way in implementing practical technology across all areas of their business.
In 2011 BACF had been operating an electronic techlog solution for some time when a number of factors meant that a new supplier would be required. The team was clear that they did not want to go back to the paper process because the benefits of the ETL were too great.
The team at NVable were known to BACF because we were involved in the creation of the world's first electronic techlog through a company called CoreData. Indeed, BACF's existing supplier was using software derived from that first version.
"Ensuring that only authorised flight crew and engineers are able to complete a technical log has always been a challenging area. We find the implementation of the ETL, and the ability to centrally manage user access, to be a particularly useful capability." Terry Clarke, Airworthiness Surveyor for the Civil Aviation Authority (CAA)
NVable was delighted to create a new solution using our previous experience and building on the Converge platform (which was then branded Appixo).
Working closely with BACF our team developed the ETL from the ground up with a focus on usability, reliability and operational resilience. We were able to build in all the mechanisms to effectively support the ETL in the field. Which is one of the areas often neglected but is fundamental to a successful long term implementation.
In May 2012 the ETL was launched across the BACF fleet. Feedback from pilots and engineers was positive even in the early weeks of implementation.
"Our Flight Crew and Engineers were already used to the concept of an ETL but from day one their feedback on the new ETL from NVable has been overwhelmingly positive and they see many advantages." Dave Cooper, Line Maintenance Manager BA Cityflyer
Within a few months the data recorded on the ETL was being fed automatically into BACFs maintenance system OASES. The first implementation of a live data feed of techlog data into an airline maintenance system in the world.
Since the initial implementation on Panasonic Toughbooks (CF-19), NVable upgraded the service to use Panasonic Toughpads (FZ-G1) in June 2013. Another first, as BACF were the first UK airline to use Toughpads in live operations.
During the course of 2014 and 2015 BACF have implemented the other functionality of Converge for Aviation. In January 2016 the Converge platform went live using Microsoft Azure, the transition completed with no downtime in the service.
"The experience of working with the team at NVable has been invaluable. Complex software projects are difficult to implement but NVable has helped to make it simple. The team have been responsive and extremely supportive which has made the project a success." Mark Leather, Continuing Airworthiness Manager BA Cityflyer
BACF and NVable continue to prove that sensible implementation of technology reaps efficiencies and business benefits.